The Establishment - Alumni
Listed below are former members of The Establishment. This list is not meant to be an all-inclusive list - it's just our best recollection of former band members. Members are listed in alphabetical order.
Vocals Reeds Trumpets Trombones Rhythm Alumni
Del Sawyer (founding Director)
Billy Adair - Billy led the band from 1998 until his unexpectedly passed away on February 18, 2014 leaving a large hole in our hearts. Click here to read more about Billy's astonishing career and his tremendous contributions to the Nashville music community.
Karen Coble

Dottie Dillard

Jeannie Dennis
Liz Johnson is the groups female vocalist. Liz performs regularly in the Nashville area with her own quartet and supports a growing road schedule that took her to the Watertown Jazz Festival, Chicago and New York City in 2002. Nashville's city paper said her first full-album release, "One More for The Road," (Lily Records, 2001) "indicates she's quickly becoming another Nashville jazz musician deserving of some national attention." (July 2001). Audiences second that opinion. "I have an idealistic vision of what I'm doing," says Johnson who sees herself and her talent as a work in progress. "The music is a vehicle for me to evolve and give something back. We're all supported by a huge network of friends and family, a community. I want to be able to give back to that community --- all those friends and family and teachers who made a difference to me."

Click here to listen to Liz's great voice on this Establishment cut of Is You Is Or Is You Ain't My Baby

You can also learn more about Liz from her website, http://www.lilyrecords.com.

Sarah Edmonds joined The Establishment in February 2011. Beegie Adair has said that Sarah's "not afraid to test the outer limits of the American Songbook, moving easily from Johnny Mandel to Paul Simon, with a side trip or two to Harold Arlen, and a short stop in Brazil. June Christy's cheeky modulations in "Taking a Chance On Love" might have daunted someone who didn't understand what was happening, but Sarah took them and ran with them. June would be proud, and so am I."

You can learn more about Sarah from her website:
http://www.sarahedmondsjazz.com/
Ron Kaiser

Carolyn McClain

Susan Ladd Smith
---
Stephen Abbott
Bob Davis
Mac Davis
Scoby Dill

Cole Burgess is one of the lead soloists for the band. With his powerful, yet smooth tenor sound, thoughtful improvisations, and his always present sense of humor, Cole is certainly a guiding force in the band. Click on one of the links below to hear Cole soloing with the band.
Joy Spring
Strike Up The Band

Josh Dunlap
Paul Dunlap

Dave Edmunds

Chuck Hendry

Don Hildebrandt

John Kiser

Paul Lenk

Bill McGee

Bobby (Brandon) Lewis

Larry Richards

Bill Riggs joined The Establishment in 1993 and served as Secretary/Treasurer for the Establishment. While he enjoys a successful career in computer programming, his first love is music. He plays with several area bands and has been fortunate to play with such artists as The Four Tops, Lorna Luft, Helen Ready, Slide Hampton, Vassar Clements, Tito Puente Jr., Levi John, Marvin Stamm, Steve Wiest, Deborah Brown, Bob Mintzer, Dick Oats, Dave Liebman, and Ernestine Anderson.
Andy Robinson
Steve Rundberg, Music Director at Montgomery Bell Academy has been a professional musician since 1975, Mr. Rundberg holds a master's degree in Education and is an accomplished clarinet, saxophone, and flute player in all styles of music.

Robbie Shankle, started playing with The Establishment in May, 2010. Robbie is a Nashville studio musician with a broad range of musical credits, including performances with Aretha Franklin, Branford Marsalis, Natalie Cole, Diana Krall, The Nashville Symphony, The Four Tops, Barry Manilow, Rod Steward, Ray Charles, Ann Hampton Callaway, Patti Austin, Tommy Dorsey Orchestra, Harry Connick Jr., Rosemary Clooney, Oliva Newton John and others

Robbie has recorded with the Nashville Symphony, Matchbox 20, The Temptations and Lorrie Morgan, and has done TV and radio work with the Nashville Saxophone Quartet, the Nashville Chamber Players, Alan Jackson, and Three Dog Night. He also plays baritone saxophone in the Nashville Jazz Orchestra. His teaching credits include Trevecca Nazarene University, Cumberland University & Arts Academy and Lipscomb University.

Dennis Taylor, a two-time Nashville Music Awards nominee for "Miscellaneous Wind Instrumentalist of the Year" joined the Establishment in May of 2003. Dennis has played on four Grammy-nominated albums and has appeared on television shows such as "Austin City Limits", "Country Music Hall of Fame 25th Anniversary Celebration" and the "Texas Connection". Dennis has toured with Shelby Lynn and Kenny Rogers and currently does session work in Nashville as well as teach privately at his home in Nashville.

Jerry Vinette
Frank Walker
---
Billy Amonette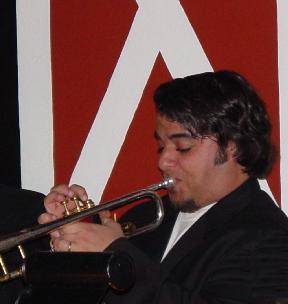 Charlie Anderson, hails from St. Paul, MN, and graduated from Vanderbilt University, where he was a recipient of the Del Sawyer (founding director of The Establishment) Trumpet Scholarship. Former Establishment member, Chris Cooper, stirred Charlie's interest in jazz while attending college, and he is very excited about the opportunity to play with such accomplished musicians in the group.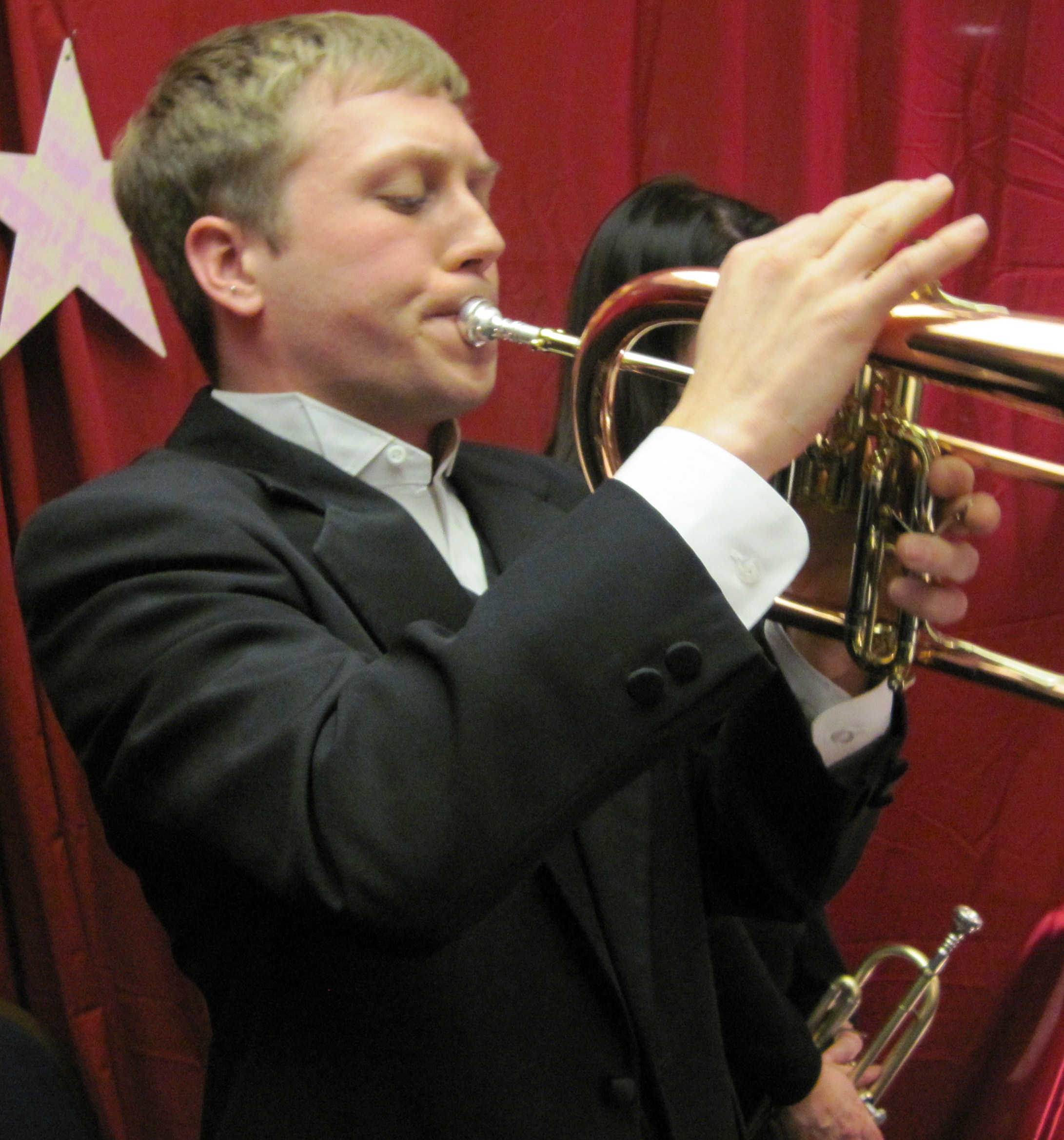 Brent Baker
Dave Converse
Lane Denson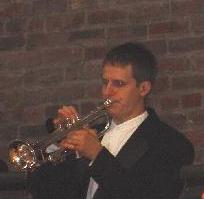 Paul Epp, originally from Lawrence, Kansas is a former Del Sawyer Trumpet Scholarship recipient, has played in various orchestras, big bands, jazz combos, brass ensembles and other groups since he moved to Nashville in 2000, and has played a number weddings, parties and other types of receptions on trumpet, piano and guitar. Paul has twice been chosen as a soloist for the Blair School of Music Student Showcase and has attended the Aspen Music Festival. His interests outside of music are as diverse as those within it.
Ed Farley
Steve Farr
Bill Fitz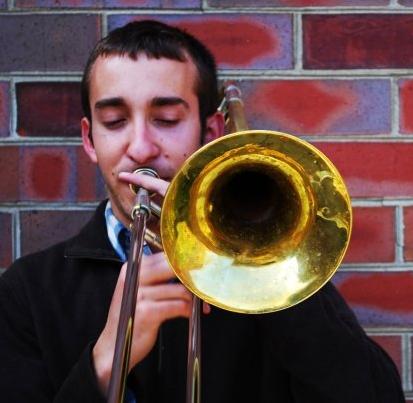 John Fontaine has been playing with the Establishment since August 2009. John, a native Tennessean, is currently a Civil Engineering student at Vanderbilt University, where he also studies trombone with Lawrence Borden. Having had the fortune of playing with Michael Mulcahy, Michael Davis, Harry Watters, Matt Neiss, Don Hough, John LaBarbera, Vince DiMartino, Mark Taylor, Futureman, and Rick Simerly, he recently was a finalist at the Eastern Trombone Workshop's Solo Jazz Competition
Joe Gross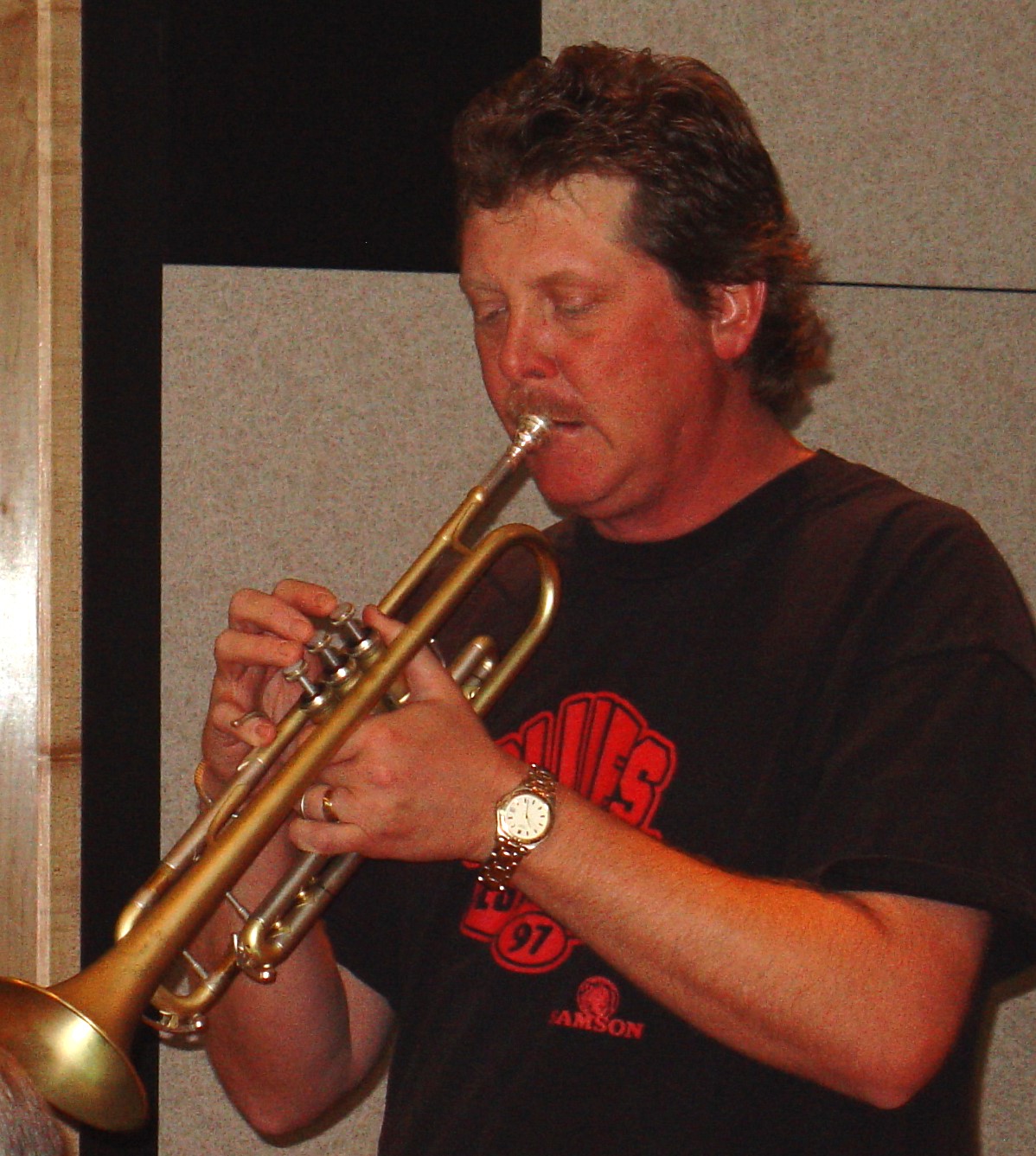 Steve Herrman, left The Establishment in May 2008 to tour with Kenny Chesney. Steve, a graduate of North Texas State University, is a professional musician by trade with many credits to his name. His television appearances include, but aren't limited to Jay Leno, Espy Awards (3 times) and Austin City Limits (2 times). Steve has recorded for such greats as Delbert McClinton, Waylon Jennings, Travis Tritt, Kenny Rogers, Lou Rawls, little Milton, Vince Gill, Hank Williams Jr., Lorrie Morgan and Sammy Kershaw, Montgomery Gentry and many others. In 2006 Steve toured with Lyle Lovett and has also toured with Delbert McClinton (7 years) and Waylon Jennings (3 years). Click here to listen to Steve soloing on Joy Spring.
Mike Hime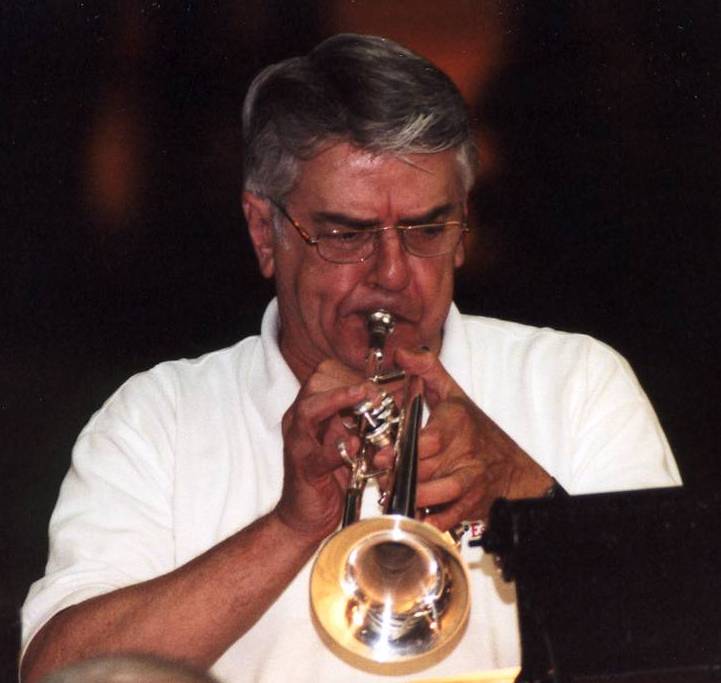 Dr. Jerry Humphreys an M.D specializing in pathology (diagnosis), is also a farmer who raises cattle and race horses.
Scotty Huff
Russ May
Gene Padden
Matt Nygren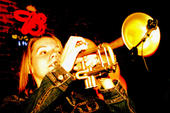 Courtenay Shipley, a member of The Establishment since 2004, is a native of Pittsburgh, PA. In 2001 Courtenay graduated from Vanderbilt University's Blair School of Music with a bachelors of music in Trumpet Performance and stayed in Nashville to pursue musical interests. Outside of playing, she works for Principal Financial Group as a retirement plan education specialist. In addition to The Establishment, she enjoys playing in Secret Gossip, an original funk band, the Ceremonial Brass Quintet, and has played in the past with the Nashville Philharmonic Orchestra as well as performing as a soloist. You can find articles written by her about Nashville and jazz on the Tennessee Jazz and Blues Society webpage at www.tjbs.org
Carl Stasiunas
Bob Stepbach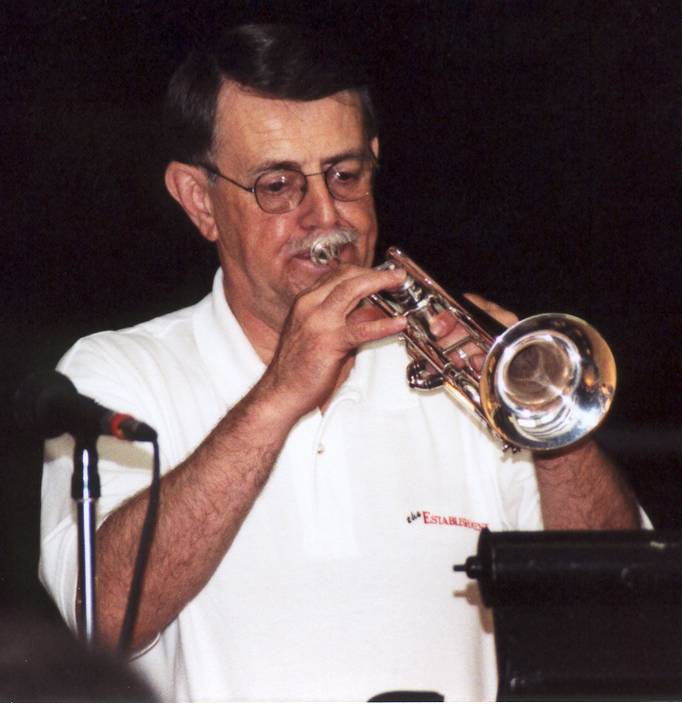 Jack Strotman, one of our longest service members, joined the band in the Spring of 1970 and served as the organizations Personnel Manager in addition to playing the trumpet. Jack began his musical career in Philadelphia Pa where he studied under Victor Hugo and Michael Buglio. Following a brief career with the 505th Air Force Band of the Mid West on trombone, Jack returned to the Philly area and resumed his trumpet playing. A transfer with the General Electric Company brought him to Hendersonville TN in 1969.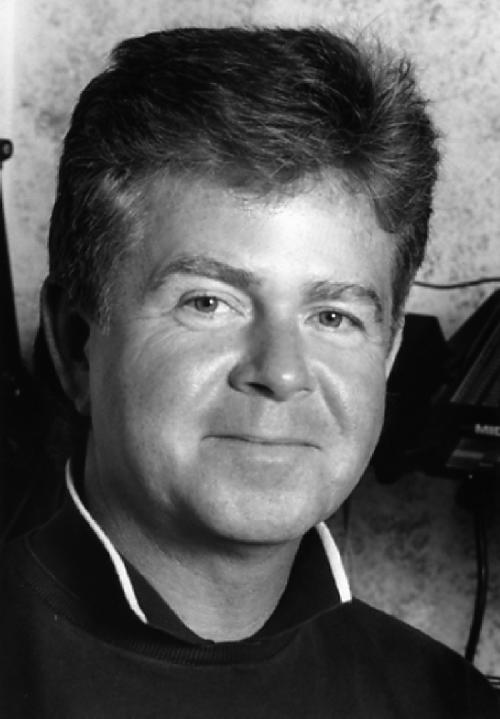 Tom Smith, was with The Establishment in 2010. Tom graduated from MTSU with a Degree in Music and is past owner of Creative Recording Studio now know as Black Bird Studios.

Tom has an extensive production, performance and arranging career that include such major artists as:

Ron Carter, Amy Grant, Michael W. Smith, B.B. King, Rod Steward, Alan Jackson, Vince Gill, The Four Tops, The Pointer Sisters, Chet Atkins, Boots Randolph, Floyd Crammer, Wynona Judd, Issac Hayes, Delbert McClinton, Jonelle Mosser, Lee Roy Parnell, Tony Joe White, Asleep At The Wheel, Dolly Parton, George Jones, Tracy Nelson, John Sneider, Riders In The Sky, Ronnie Milsap, Marty Stuart, Jerry Lee Lewis, Buddy Guy, Steely Dan, Randy Travis, Hank Williams Jr., Kenny Rogers, Travis Tritt, J.J. Cale, BeBe & CeCe Winans, Larnelle Harris, Restless Heart, Sam & Dave, Jason Aldean….Dobie Gray
---
Ron Anderson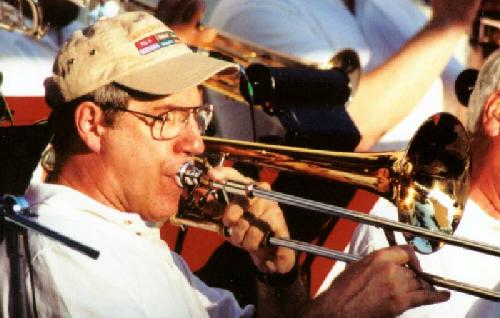 Jae Amrstrong
Cully Beasley
Louis Brown
Herbie Bruce
Dr. Bill Card
Chris Cooper
Bucky Doster
Lee Herring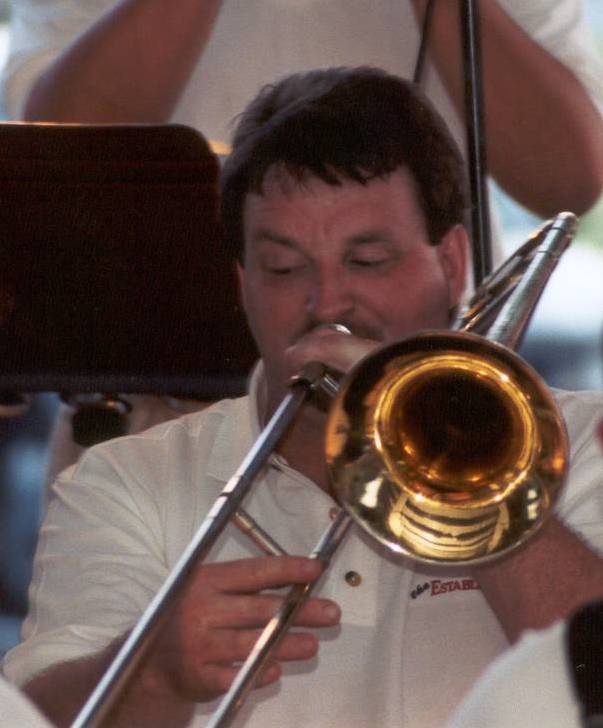 Chuck Lyons, bass trombone, joined The Establishment originally in 1990. Chuck has been on "leave of absence" a couple of times to pursue teaching high school music at McGavock and White House High Schools in Middle Tennessee. He enjoys a successful career in computer sales, but his first love is music. He has had the privilege to perform with such notables as Slide Hampton, Marvin Stamm, Don Menza, Ernestine Anderson, David Baker, Dominic Spera, Bob Mintzer, Dave Liebman, Deborah Brown, Buddy Baker, Deborah Brown, Lorna Luft…just to name a few.
Dr. Max Jackson
Scott Kefauver
Bev LeCroy
Phil Orr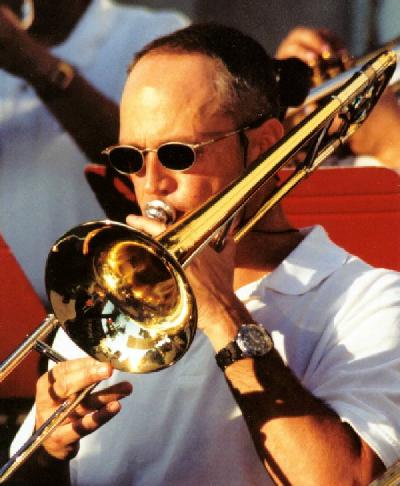 Jack Reese is a product of the Nashville music scene. As a young trombonist, he studied at Blair Academy with Hank Romersa. Jack started with The Establishment in 1988. Jack is a Nashville businessman and lives with his wife and two sons in Kingston Springs.
Hank Romersa
Greg Swanson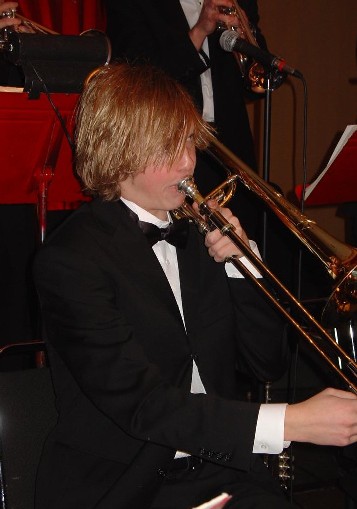 Seth Weaver started playing trombone with The Establishment in the summer of 2007. Seth is a high school student (2009) at Independence High School in Thompsons Station, where he plays in the Wind Ensemble and Marching Band. He played with Vanderbilt's Blair Big Band in spring of 2007, and was a member of the TN All State Band as a sophomore that spring as well. Seth was selected for the first Mid State Honor Bands in both jazz and classical. While he truly loves to play jazz, he also plays in a trombone choir, Bone Therapy, and when he's not playing his trombone he likes to sing. Seth left the group in the fall of 2009 to pursue music studies at North Texas State university.
Harry Williams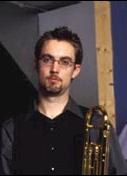 Oscar Utterstrom - Oscar grew up in Sweden and started playing the trombone at the age of ten. After graduating from high school, Oscar took his trombone to Boston and Berklee College of Music where he majored in Music Business/Management. At the same time he continued to study trombone with mentors like Phil Wilson, Hal Crook, Jeff Galindo, Tiger Okoshi, Lin Biviano and Charles Lewis.
After graduating from Berklee, Oscar moved down to Nashville where he worked as a Production Assistant at The Sessions Agency on Music Row and pursued his masters in Jazz Studies at Middle Tennessee State University.
Oscar is very active on the Nashville jazz scene performing with such groups as the Greg Bryant Quartet, the Christina Watson Quintet, halfbrass, and the Middle Tennessee Jazz Orchestra. Through Middle Tennessee State University Oscar has had the privilege to play with masters such as Jim McNeely, Benny Golson, Carl Allen, and Eddie Daniels. He can also be seen playing with the Nashville Philharmonic Orchestra and the Tennessee Philharmonic Orchestra from time to time
---
Alf Bartles
Otto Bash
Warren Bone
Ralph Black
Larry Bullion
G.R. Davis
Charlie Dungey
Shelby Flowers, keys
Ike Harris, bass
Steve Headley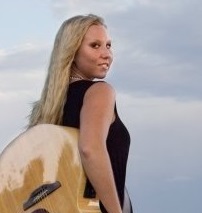 Lauren Homburg
Spire Justice
D.O. Looney
Wayne Oldham
John Ownby
Rich Pipani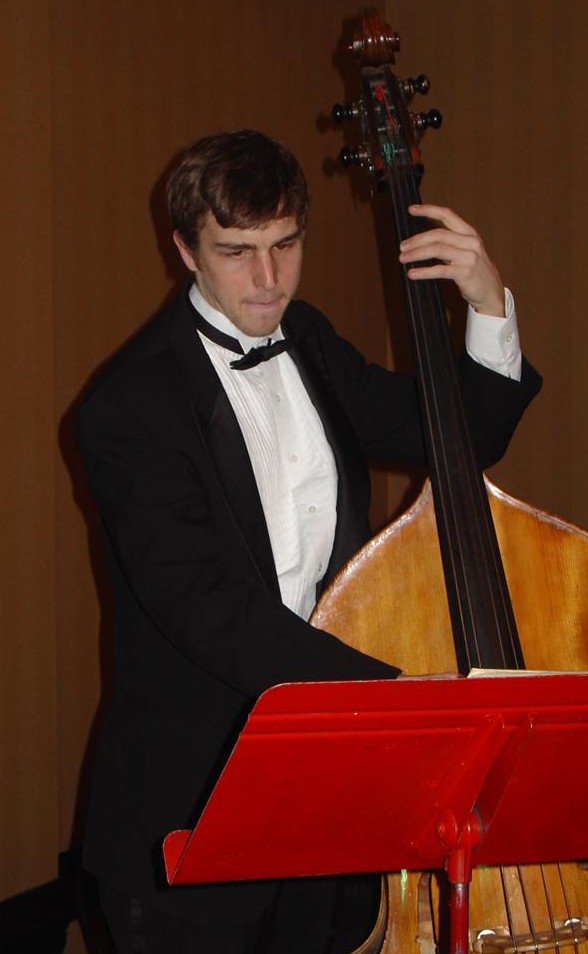 Mike Rinne,bass.
Charlie Rutherford
Dave Sampsell
Mario Sangramano
Greg Smith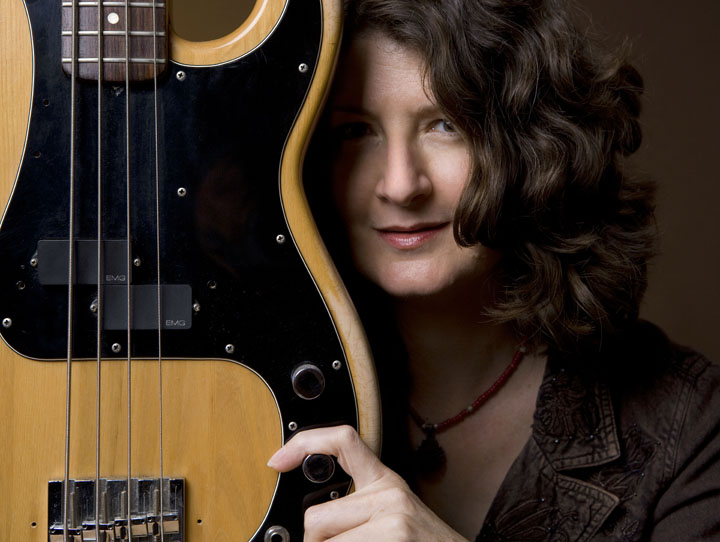 Tisha Simeral, is known for her musical versatility. She has played double bass or electric bass with the Orchestra Nashville String Quintet, the Columbus Symphony Orchestra Pops, Rolando Matias' Afro-Rican Ensemble, jazz artists Denny Jiosa and Linda Dauwalder-Dachtyl, bluegrass artists Louisa Branscomb, Corinne West and Roland White, country artists Eric Heatherly and Thom Shepherd, singer-songwriters Jon Vezner, Darrell Scott and Sara Hickman, veteran rockers Ron Keel and Charlie Wayne Morrill and jam band superstar Trey Anastasio.
Tom Steele
Eric Stephens
Larry Taylor
---